-50%
230 LED Solar Motion Sensor Light with 3 Adjustable Heads
$10.99 – $20.99
3 Heads Solar Motion Sensor Light Specifications:
LED Quantities: 230pcs
Brightness: 2200lm
Angle Adjustable: 90-270 degrees
Power Source: Solar powered
Charging Time: 6-8 hours
Control Method: Touch
Embellishment: Other embellishments
Special Features: Foldable
Fixture Type: Non-detachable
Light Fixture Form: Sconce
Lamp Shade Material: Plastic
Mounting Type: Semi-flush mount
Included Components: Shade
Material: Plastic
Package Includes:
1 Pack*Solar Motion Sensor Light
or
2 Pack*Solar Motion Sensor Light
More popular items of Solar Powered Lights are on sale at 50% off!
Don't miss them while quantities last.
Free shipping on orders over $299.99!
Satisfaction Guaranteed
No Hassle Refunds
Secure Payments
Description
3 Heads Solar Motion Sensor Light:
★ Power Source: Solar
★ Light Source Type: LED
★ LEDs: 230pcs
★Brightness: 2200LM
★ Style: 3 Heads
★Color: Same as the pictures show
Main Features of this 3 heads solar motion sensor light:
1. Eco-friendly and sustainable: Solar motion sensor lights are powered by renewable energy, making them a more environmentally-friendly option compared to traditional electric lights.
2. Cost-effective: Solar motion sensor lights can help save on energy costs, as they only turn on when needed and are powered by free, renewable energy from the sun.
3. Convenient: This 3 heads solar motion sensor light comes with features such as 2 lighting modes, angle 90 degrees and 270 degrees adjustable, making them easy to use and customize to your specific needs.
4. Durable and low maintenance: Solar motion sensor lights have no wires or cords, making them less prone to damage and easier to install. They also require minimal maintenance, as there are no bulbs to replace and the solar panels can be easily cleaned.
5. Reliable & Weather-resistant: This solar motion sensor lights use high-quality solar panels and rechargeable batteries, ensuring reliable performance even on cloudy or overcast days. The 3 heads solar motion sensor light is designed to withstand extreme weather conditions, including rain, snow, and extreme temperatures, making them suitable for outdoor use perfectly in a variety of environments.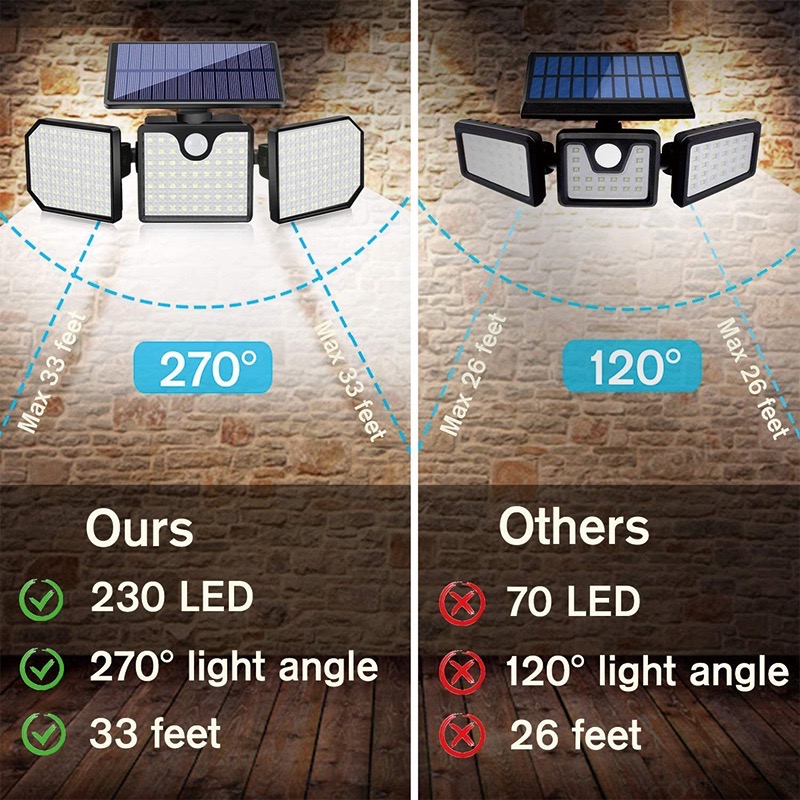 Our Warranty:
1. Buy risk-free, we guarantee a 45 days money back policy, click Warranty and Return to check the policy in detail;
2. 100% customer satisfaction service concept, if you have any negative experience for any reason, we will do whatever it takes to make it right!
3. 24/7 ticket or E-mail support, convenient instant online communication tools like What's app, messenger to make sure you know everything before paying.
Online shopping is like an adventure, but LightsandGifts protect your security from any aspect, with safe payment, trackable shipping, and no hassles after-sale service!
It's ZERO risk buying these 3 heads solar motion sensor light in our store because we make it right 100% no matter what!
What's more, don't just spend, EARN NOW!
If you're an internet rat, make some money with us!
You can earn up to 20% commission by joining our Affiliate Program
If you want to wholesale any item in our store at much lower prices, click Wholesale Program to check how to become a wholesaler of LightsandGifts.
Please click here to know more.